We've worked hard to compile this list from many sources since we know scholarships for music majors are difficult to find. The list is updated with new opportunities and new deadlines as quickly as we can get the information, so visit often.

When you apply for music scholarships –
1. Check scholarship deadlines carefully. Make sure your application arrives before the deadline.
2. Be sure to include all of the information requested. You will be considered based on the thoroughness of your application.
3. Note that while some of these are small scholarships, several small scholarships can add up to a significant chunk of tuition costs.
Link to Participating Music School Scholarship Info
Independent Music Scholarships
American Association of University Women
Fellowships and grants for graduate school.
American Association of University Women International Fellowships
Graduate school support for women who are not U.S. citizens or permanent residents. Must have equivalent of a U.S. bachelor's degree to apply.
AFB (American Foundation for the Blind)
AFB administers two music scholarships for women: R.L.Gillette Scholarship and the Gladys C. Anderson Memorial Scholarship. The applications are typically updated in early winter, with spring deadlines.
American Music Therapy Association
Scholarships and grants for students, interns and grad students who are members of AMTA and are pursuing music therapy.
American Society of Music Arrangers and Composers (ASMAC)
Scholarship opportunities for undergraduate and graduate student members of ASMAC in composing, vocal/instrumental arranging, orchestration. Deadline: 10/1.
ASCAP Foundation Scholarships
Several scholarships available in many areas of music.
Associated Male Choruses of America
Annual scholarship program is open to all qualified and deserving students of music. Amount may vary each year (typically ranges from $1000 – $1200 each). Scholarships are for students enrolled in undergraduate university/college music programs with preference given to those majoring in vocal music, although students of instrumental music are also eligible.
BMI Foundation Scholarships
Several scholarships available in several areas of music.
Boettcher Foundation Scholarships
For Colorado residents; for most Colorado schools.
Chopin Foundation of the U.S.
Gives up to ten renewable scholarships of $1000 each to pianists age 14 – 17.
Coca-Cola Scholars Foundation
Gives scholarships to high school seniors. Application opens late summer.
Colburn-Pledge Music Scholarship Foundation
For Texas residents who attend or will attend music school in classical music either in or outside of the state.
Copyright Awareness Scholarship
Sponsored by the National Music Council (NMC) and the Music Publishers Association (MPA). For students currently enrolled in school between ages 13 – 25. Applicants fill out online form, create and upload their video focusing on the importance of copyright. Awards up to $5,000. Application deadline is June 15.
Davidson Fellows
Scholarships are awarded to "extraordinary young people, 18 and under, who have completed a significant piece of work" in several areas including music.
Dell Scholars Program
For grades 11 & 12, need-based, not specifically for music students.
Evalee C. Schwarz Charitable Trust for Education
Interest-free loans for students who demonstrate high academic performance and financial need. Application deadline in early April; notification in June.
FAMA (Fund for the Advancement of Musical Arts)
Grants to support music projects, music education, composition, performance.
Fund for Education Abroad
Generous support for study abroad.
Gates Scholarship
For Pell-eligible, academically- achieving African-American, American Indian/Alaska Native, Asian & Pacific Islander American, and/or Hispanic American students planning to go to college.
Glen Miller Birthplace Society
Voice and instrumental scholarships.
Gloria Barron Prize for Young Heroes
Annual April deadline. Must be nominated by an adult who has solid knowledge of your "heroic activities." Ideal for someone who's made a difference through music.
Golden Key Visual and Performing Arts Achievement Award
Annual scholarships in the amount of $1000 to undergraduate and graduate students who are members of Golden Key International Honour Society. Instructions for becoming a member of Golden Key and for submitting online performances for scholarship consideration are available on the Golden Key website.
Hawkins Memorial Award Scholarship
Administered through John Philip Sousa Foundation, for a college music major working toward a degree in instrumental (band) music education.
Jack Kent Cooke Young Artist Award – From the Top Scholarship
Each year approximately 20 young musicians (ages 8-18) are selected for the Jack Kent Cooke Young Artist Award. Applicants must be pre-collegiate classical musicians between the ages of 8 and 18 who demonstrate a high level of musical achievement and financial need.
JEN (Jazz Education Network)
JEN offers several scholarships. Deadlines are typically in September.
John Lennon Scholarships
For young songwriters, ages 15 through 24, working in any genre. John Lennon Endowed Program for Performing Arts, Music, Communications, Mass Media Arts. Information typically updated in September.
John Philip Sousa Foundation
National Young Artists Solo Competition. For high school wind band instrumentalists.
Loan Forgiveness Programs
This program discharges any remaining debt on federal student loans after 10 years of full-time employment in public service and 120 payments.
Loren L. Zachary Society National Vocal Competition
For young opera singers, age 21-35. Winter/Spring auditions in New York and Los Angeles.
Margaret Blackburn Biennial Composition Competition
$1000 grand prize for a female student composer enrolled in an accredited college, university, or graduate music program. Deadline: end of March.
Marine Band Concerto Competition
High school musicians grade 9-12 compete for a cash prize and a performance in Washington, D.C. Application posted in Spring.
Mario Lanza Institute Scholarship
Vocal scholarships for talented, aspiring singers ages 21 – 28, with a vocal/music study background. October deadlines and audition dates, application fee. Scholarship information updated typically in April.
MTNA (Music Teachers National Association)
Composing and performance competitions for high school students whose teachers are members of MTNA.
Music Business Association
Offers scholarships to employees, children, and spouses of employees of Music Business Association member companies.
Musician's Dream Aid
Scholarships for Canadian students under age 20 (citizens and those living in Canada) to be used for music school or program. Deadline is 6/11.
NAMM Gard Scholarship Fund
Established by NAMM, the National Association for Music Merchants, renewable scholarship for undergraduate and graduate students employed by a NAMM-member music products industry company.
National Association of Pastoral Musicians (NPM)
Provides scholarships to NPM members in undergraduate and graduate pastoral music programs, for registration, tuition, fees, or books.
National Federation of Music Clubs
Scholarships for current college music majors (instrumental, vocal, music therapy, music education), summer arts programs, festival attendance for college as well as high school students.
PanHellenic Scholarship Foundation
Annual scholarships for full-time college undergraduates of Greek American background with a minimum 3.5 GPA and financial need. Students who have graduated from a non U.S. high school can apply after completing 24 credit hours at an accredited U.S. college-level school.
PDK International
Scholarships for prospective music educators who are currently in high school or college.
peermusic Latin Scholarship
For songwriters and composers who are current students at colleges and universities located in the United States and Puerto Rico. Applicants must be between the ages of 16 and 24. All words and music must be original. The application deadline is in February.
PFLAG Scholarship Program
Graduating seniors entering college who identify within the LGBTQ spectrum or as an ally.
Percussive Arts Society
Scholarships and grants for student percussionists who are current members of the Percussive Arts Society (PAS).
Posse Foundation
H.S. juniors and seniors with leadership skills can apply for 4-year, full tuition scholarships (NOT need-based) to attend Posse partner colleges and universities. Currently, students must be in cities with Posse chapters: Atlanta, S.F. Bay Area, Boston, Chicago, Houston, Los Angeles, Miami, New Orleans, NYC, D.C.
Prudential Spirit of Community Awards
Given to students for significant volunteer services to their communities. Deadlines are in the Fall.
Regions Riding Forward Scholarship Essay Contest
Open to high school seniors residing in Alabama, Arkansas, Florida, Georgia, Illinois, Indiana, Iowa, Kentucky, Louisiana, Mississippi, Missouri, North Carolina, South Carolina, Tennessee or Texas AND college students going to school in one of these states. Requires application and essay about an African-American individual who inspires and motivates you. End of Feb. deadline.
Ruth K. Jacobs Memorial Scholarship
Financial aid to full-time college undergrad or grad students majoring in music with a choral church music focus.
Samsung American Legion Scholarships
For high school juniors to use in any college major. Must be the descendant (child, grandchild, or great-grandchild) of a U.S. veteran who served during a period of war.
SCI (Society of Composers)
Prizes for high school, undergraduate, graduate composers.
Sigma Alpha Iota (SAI) Scholarship/Grant Program
This international music fraternity was established for women college students "with a sincere interest in music" in 1903. To qualify for a scholarship, loan or award, you must be a SAI college chapter member or alum.
Sinfonia Educational Foundation (SEF) Scholarships
Applicants must be college chapter members of Phi Mu Alpha Sinfonia, the national men's fraternal music society, to apply for $500 – $2500 scholarships. Deadlines are in March.
Sphinx Competition
For young Black and Latino string players. Open to current U.S. residents who are Black or Latino and play the Violin, Viola, Cello or Double Bass. Prizes include cash scholarships, summer program scholarships and college/conservatory scholarships.
Stamps Scholars
A number of music schools offer scholarships through Stamps Foundation – apply for these through the listed schools, not the foundation.
Tarisio Young Artists Grants
Support for innovative string-based projects created and driven by young artists between ages 18-30.
The James and Virginia M. Smyth Scholarship Fund
For applicants from Missouri, Mississippi, Georgia, Illinois, Oklahoma, Texas and Tennessee. 4-year renewable scholarships.
The Music Center's Spotlight Program
A scholarship and arts training program for high school students in S. California (Los Angeles, Orange, Riverside, San Bernardino, Ventura, Santa Barbara, San Diego) in these categories of music: classical and non-classical voice; jazz instrumental; classical instrumental.
Tuesday Musical Club of Pittsburgh
Scholarships for high school and college music majors whose permanent residence is within 100 miles of Pittsburgh. Applications begin January.
Tupelo Elvis Presley Fan Club
Scholarships for students graduating from Mississippi high schools and pursuing music in college.
U.S. Bank Scholarship Program
Not specific to music. Application details updated at beginning of year with September deadline. Available to high school seniors and college undergraduates. Winners selected at random. Eligibility: high school senior planning to enroll in or a current undergraduate college student at an eligible two- or four-year college or university. U.S. citizen or permanent resident alien.
VSA International Young Soloists Program
The VSA (international Organization on Arts and Disability) International Young Soloists Award is given annually to young musicians ages 25 and under, with disabilities. Ensembles with at least one member with a disability are also eligible. Application information is posted in October with submission deadline in the winter.
Women Band Directors International
Women Band Directors International (WBDI) offers scholarships to female college students who are majoring in music education with the intention of becoming band directors, and who are about to student teach. (click on "College Scholarships")
YoungArts
YoungArts offers monetary awards to promising high school students in all of the performing and visual arts as well as writing. U.S. Presidential Scholars in the Arts are chosen from YoungArts Finalists.
Young Artist Competition for Bassoon and Oboe
Sponsored by the International Double Reed Society, and for those who are under age 22. Competitions alternate annually between oboe and bassoon. Deadlines in March.
Young Musicians Foundation – David Weiss Scholarship Program
Financial assistance for talented young musicians ages 8 – 26 and residing in Southern California, for private music instruction, music camp/school tuition or festival attendance. Applications online in June with September deadline.
Young Singers Foundation
Annual music scholarships for students entering their sophomore year or above in an accredited institution and majoring in vocal music (performance, education, pedagogy, or music therapy).
Zildjian Concert Scholarship
Recognizing an outstanding student percussionist who is currently enrolled in an undergraduate music program. Early June deadline.
NOTE: MajoringInMusic.com does not endorse any of the scholarship or financial aid sites listed, nor can we confirm the accuracy of information provided by these sites.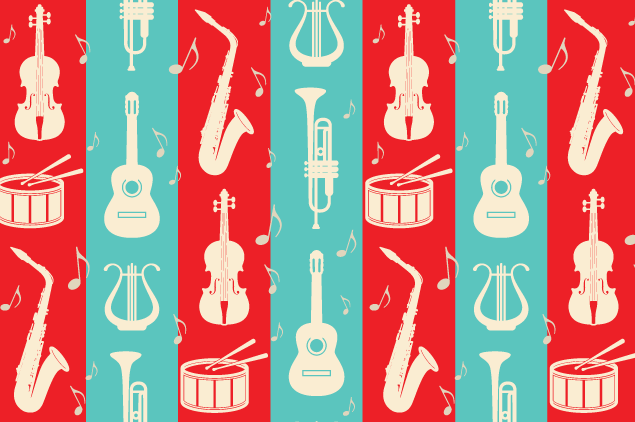 If music isn't what you do, but who you are, keep reading.
Whether your passion lies in playing an instrument, songwriting, singing or any other study related to music, there are scholarships out there to help you pursue your passion.
If you're musically talented, expressing yourself through your music is likely incredibly important to you. Similarly, scholarship providers are ready to express their support by helping you pay for school and supporting your dreams is incredibly important to them.
Allow yourself to create music and stay in harmony without the worry of paying for school by applying for one of the following scholarships for musicians, today!
Martha and Fred Arto Music Scholarship
Award: Varies
Deadline: Varies
Available to: College Freshmen through College Seniors

The Martha and Fred Arto Music Scholarship is open to undergraduate students at Indiana University, Jacobs School of Music.
Apply for the Martha and Fred Arto Music Scholarship.
Berklee Writing and Composition Scholarship for Entering Students
Award: $8,000
Deadline: Varies
Available to: Entering College Freshmen

The Berklee Writing and Composition Scholarship for Entering Students is open to incoming students at Berklee College of Music.
You must have music-writing abilities in addition to your performance abilities (live audition).
Composition applicants may submit a CD of three original compositions, accompanied by written scores, in order to be considered for this award.
Apply for the Berklee Writing and Composition Scholarship for Entering Students.
Lawrence and Alma Berk Fund for the Superior Musician
Award: Varies
Deadline: Varies
Available to: College Sophomores through College Seniors

The Lawrence and Alma Berk Fund for the Superior Musician is open to returning students at Berklee College of Music. Selection is based on musical achievement.
Apply for the Lawrence and Alma Berk Fund for the Superior Musician.
Jazz Society of Oregon Scholarship
Award: Varies
Deadline: Varies
Available to: Maximum Age 18 Years

The Jazz Society of Oregon Scholarship is open to middle school and high school students who are pursuing jazz studies.
You must be a resident of Oregon or Clark County, Washington to be eligible for this award.
You must also submit a one to three minute recording of an improvised solo and a letter of recommendation from your music teacher.
Apply for the Jazz Society of Oregon Scholarship.
Jimi Hendrix Scholarship
Award: Varies
Deadline: Varies
Available to: College Sophomore to College Senior

The Jimi Hendrix Scholarship is open to returning guitar students at Berklee College of Music.
Apply for the Jimi Hendrix Scholarship.
William Adam Trumpet Scholarship
Award: Varies
Deadline: Varies
Available to: College Freshmen through Graduate Students, Year 5

The William Adam Trumpet Scholarship is open to undergraduate and graduate students at Indiana University, Jacobs School of Music.
You must be majoring in trumpet, jazz or music education to qualify for this award.
Apply for the William Adam Trumpet Scholarship.
Leonard Bernstein Scholarship
Award: Varies
Deadline: Varies
Available to: College Freshmen to College Seniors

The Leonard Bernstein Scholarship is open to students at Indiana University, Jacobs School of Music.
Apply for the Leonard Bernstein Scholarship.
Need Money to Pay for College?
Every semester, Fastweb helps thousands of students pay for school by matching them to scholarships, grants, and internships, for which they actually qualify. You'll find high value scholarships like VIP Voice's $5,000 Scholarship, and easy to enter scholarships like Niche $2,000 No Essay Scholarship, and internships with companies like Apple, Google, Dreamworks, and even NASA!
Join today to get matched to scholarships or internships for you!
---