Write An Essay On Gardening
Read this short essay on My Hobby !
Through the course of our lives, we bide our time doing particular tasks that may either help us to earn our living or build the staircases to our futures and careers. However, amidst these compulsory tasks, most of us also do things which we enjoy doing. Such activities are called 'hobbies.'
Image Curtsey: fc05.deviantart.net/fs37/f/2008/241/2/5/Practicing_my_hobby_by_YoshiNoJas.jpg
Hobbies are activities which help us escape the daily grind of life and work and give us pleasure and peace of mind. Because we are not being ordered to perform certain jobs which we may not be fond of, hobbies help to inculcate an appreciation for work rather than driving us away from it.
The interesting thing about hobbies is that they dramatically improve our own personalities and character traits, therefore improving our performances better on the whole. They help us discover talents and abilities which we may never have known ourselves to possess also giving us an insight of all the elements around us, making us learn new things each day. For instance, hobbies like stamp collecting, bird watching, photography, sports and music make our time worthwhile and give us information about different things.
My hobby is gardening. The joy of witnessing blooming flowers and leaves fills my heart with a sense of achievement and realizing the fact that the work of my own hands is bearing fruit definitely gives me pleasure.
Gardening also helps to keep me fit, strong and healthy for working away in my garden results in the beneficial kind of exercise that is good for both mind and body. I inherited the love for gardening from my mother and now with her help and interest; I have prepared a small garden in front of our porch. It is a thing of beauty with a grassy carpet and trimmed hedges.
I grow several varieties of plants including the China rose, jasmines, ferns and gladioli in my garden. The recently purchased Christmas tree is a welcome addition too. Every day after school it is my habit to check on my garden and look after the plants. The garden has to be kept under a strict check, mowed punctually as the grass grows at a speedy rate during the rainy season, and cleaned at least twice a week. However, during autumn due to the shedding of the leaves, I have to clean it daily while always adding manure and plant medicine for the protection of these wonderful creations of God. A little bouquet of pretty flowers also makes a wonderful gift for birthdays and anniversaries.
I am also thinking of including vegetables in my garden for it will save us the purchase of vegetables from the market and we may also sell them to other people at respectable sums of money. It is possible to grow the vegetables that are consumed daily and do not take up much space.
It is always a great feeling to have my garden admired and appreciated by other people and it helps me feel like I have accomplished a great goal.
Although I truly love describing the garden, sharing with you what my senses perceive when I am in the garden is not easy because descriptive writing is not my forte. Bringing the smells, the sights and the sounds alive on paper is – in fact – very difficult.
How do you accurately describe the wonderful, translucent way a rose looks and the changes in color that take effect when the sun is shining through the petals in a way that makes it glow?
Below is my attempt at describing my garden. There are also links to products I recommend from companies I have a referral relationship with. I will be compensated if you make a purchase after clicking on my links.
I can see it with my eyes when I am gardening or even walking through the garden, but I can't quite capture the effect with a photo – then again, I am not a photographer. These days, even though I have a Canon EOS Rebel T3i digital camera, it is my iPhone that I take most pictures with, after all, it is always with me and you can't get more convienent than that.
Add in the delightful smells that waft through the summer air, the sound of birds and the tinkling of wind chimes and you will begin to understand that my garden is truly a delightful mix of fragrance that is brought alive by the sounds of nature and enhanced with colors that only Mother Nature herself can create.
Fragrance – That's Where It All Began
From the beginning I knew I wanted a highly fragrant garden. It's been nine years in the making, but I can say this year has made it all worth it.
This year is a time when I wish there was a scratch and sniff button on my website so you could smell the flowers as I begin describing the garden scents.
The fragrance from the garden gently drifts through the open doors and windows creating an array of heady, floral scents in my house that changes as often as the wind does.
The smell of honeysuckle rules most of the time – it's heavy, overpowering fragrance conquers all the other scents in the garden – except the old fashion mock orange whose citrus notes compete and at times, overpower or combine so well with the honeysuckle that it's hard to tell which is which.
Roses abound in my garden, as those of you who look at the photos know. Each one of the roses has a different scent – and this was a deliberate choice.
Some smell like pure old fashion roses, some have citrus notes, some are not scented at all and to confuse the nose even more, the sweet briar rose has apple scented leaves that adds its own dimension of fragrance to the garden.
Combine these fragrances with the dame's rocket, peonies, sweet shrub plus some of the other scented plants that are flowering at this time (the plants change from day to day) and you truly have the makings of a highly fragrant floral perfume.
Sounds
I love the sound of windchimes, birds, waterfalls and plants gently rustling in the wind. When these sounds combine, it's really amazing.
Throughout the garden there are wind chimes of different sizes and shapes. Every one makes a different sound. Some are barely noticeable, others are very loud – but it generally takes a pretty strong wind to get the larger chimes to move.
Sometimes a chipmunk or squirrel set them off, but not very often.
I add new windchimes every year. I tend to choose cheaper ones because they don't last. I don't bring them in when summer is over. They are bought for the garden and that is where they remain until the fall apart. I then collect the pieces of the wind chimes and hope someday to put them back together.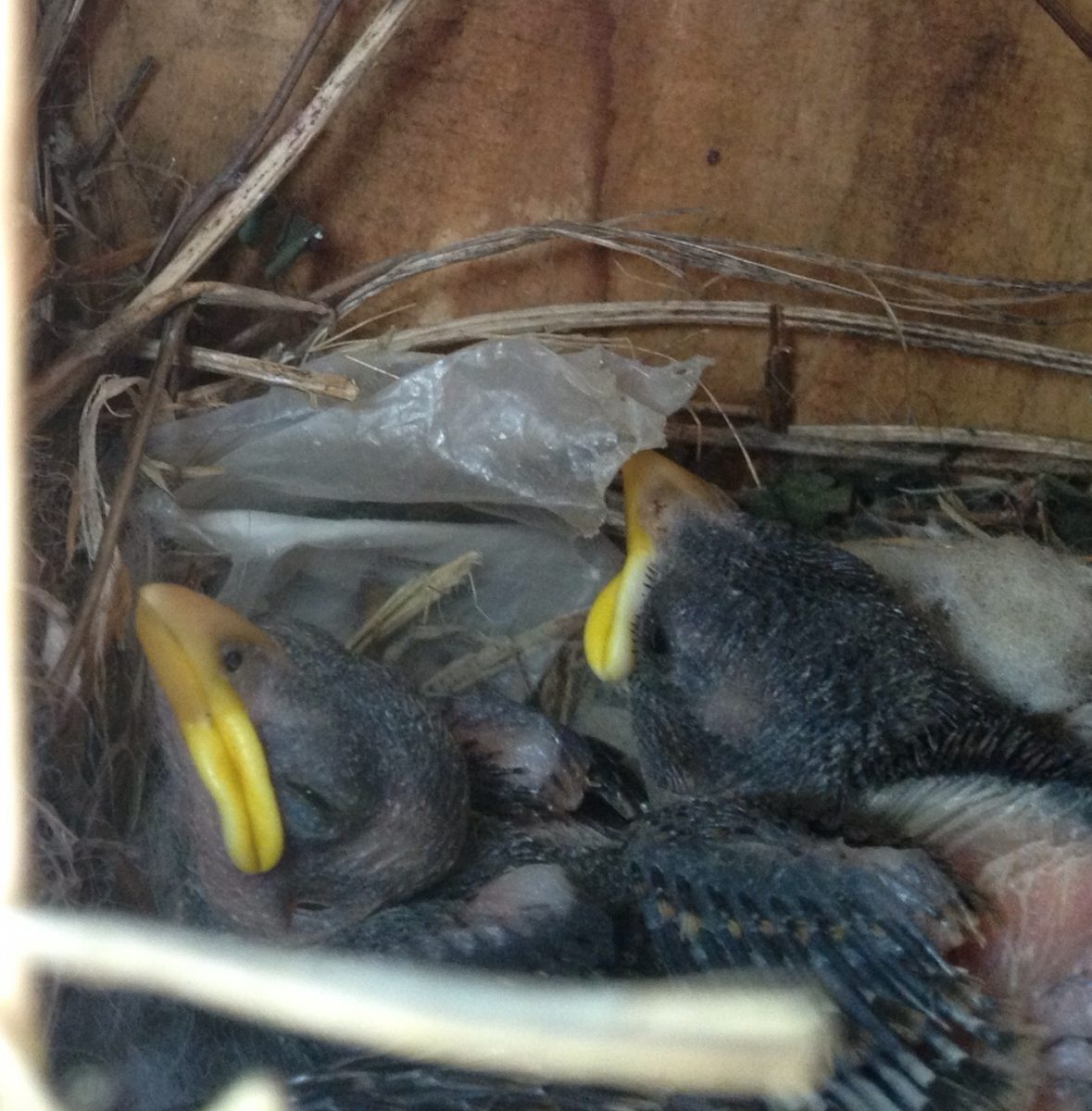 This year my garden is filled with the sounds of birds chirping. It wasn't always like this.
In fact, in the beginning, the bird feeders would sit for days untouched. Sometimes I would have to toss the bird seed because it rained and ruint it. Those days are long gone.
This year there are bird nests – filled with baby birds – all over the property. I have lots of bird houses, but some birds choose to build their nests in trees, shrubs or among the plants. I am glad. All types of birds are welcome here. Nothing says good morning quite like the cheery sound of happy birds.
The other thing that I am noticing for the first time this year is the gentle rustle of the plants – specifically some of the ornamental grasses.
The sounds of the plants rustling are not prominent, but when you walk past an area – or are sitting in an area – where the wind is gently moving the plants, you do notice. The rustling is soothing in a way – not harsh or irritating. In fact, were it not for the occassional vehicle driving by or sound of voices, I could easily forget I was right at the edge of the city.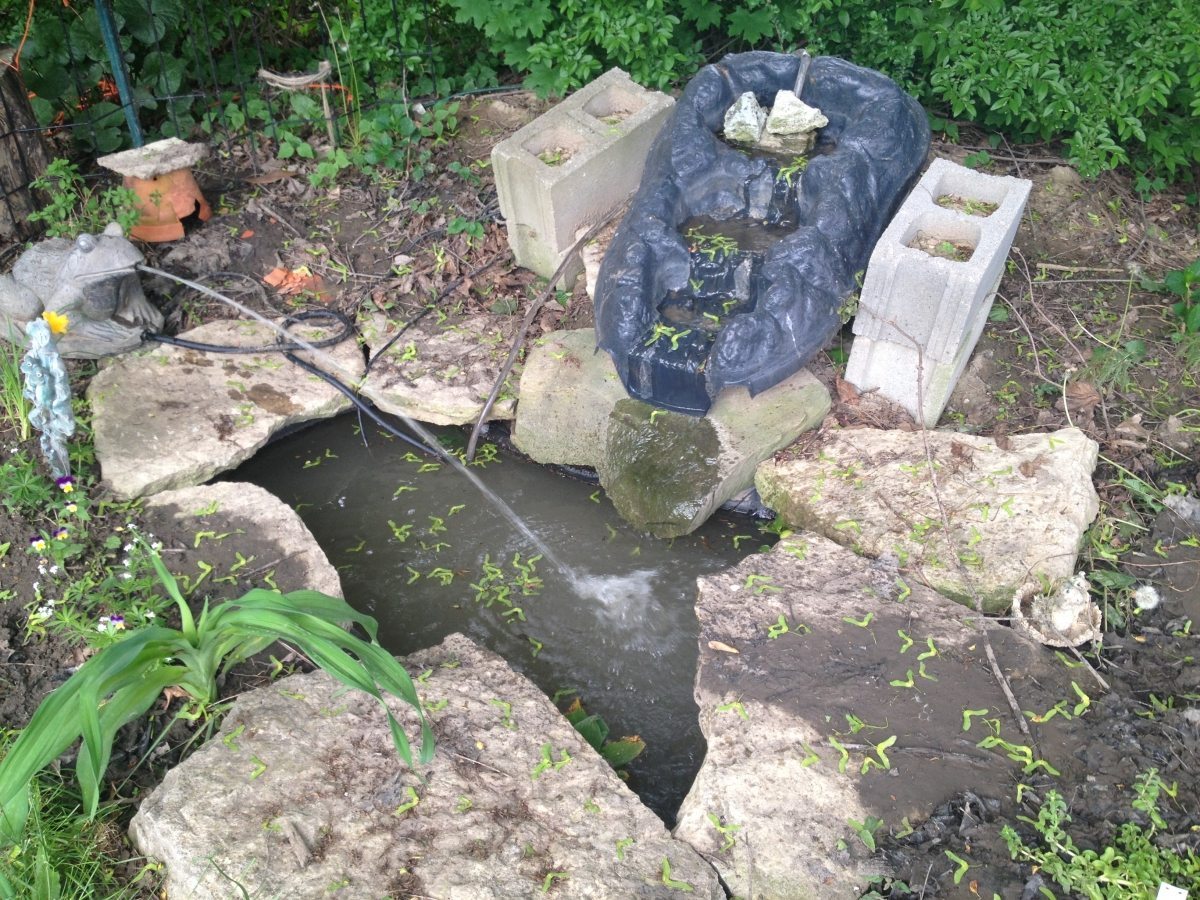 My other love is the sound of moving water – which may seem strange given the fact that I am afraid of water. I have always been afraid of water since I was a young child, but when my ex-husband tried to drown me in the bathtub, that fear became greater.
There are three ponds currently on the property and there are plans to add a fourth one. The new pond is going to be large enough to raise catfish in – the other three are strictly ornamental.
I have an array of fountains, waterfalls, colored lights and even a fogger in the ponds. I truly find the sound of falling water soothing.
The birds, butterflies and other small animals are also attracted to the sounds of water and every year there are numerous frogs and toads that come here to live. I love seeing tiny frogs and toads in and around the pond areas.
Sights
Oh – the lovely sights of the garden – are truly a sight to behold.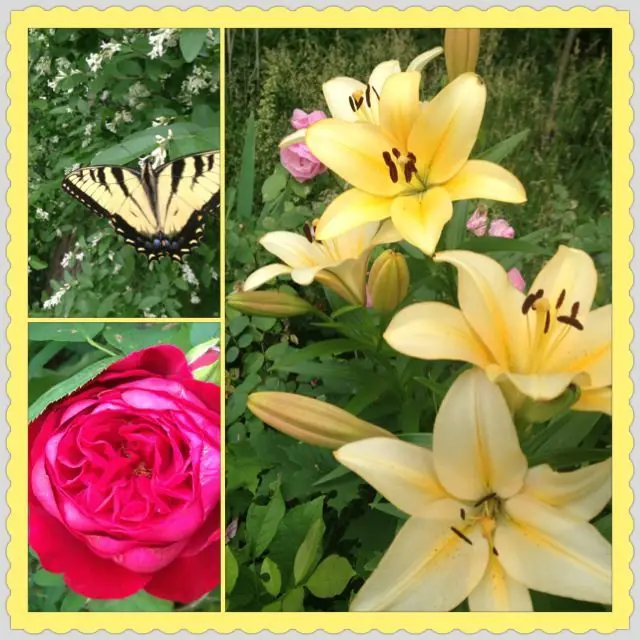 There is color everywhere – bright color, subtle color – pinks, reds, yellows, oranges, purples, greens – you name it. I have contrasting colors and harmonizing colors side by side. Red and purple. Green and red. Pink and red. Grey and yellow-green. Orange and purple.
The garden is simply a riot of color – and the colors change on a regular basis as some flowers on certain plants fade and new plants with different colored flowers burst into bloom.
The grouping that spoke to me today was a mix of a ground cover with yellow-green flowers that was planted in between a vibrant red rose and a patch of soft, grey lamb's ears. The three colors together looked really good.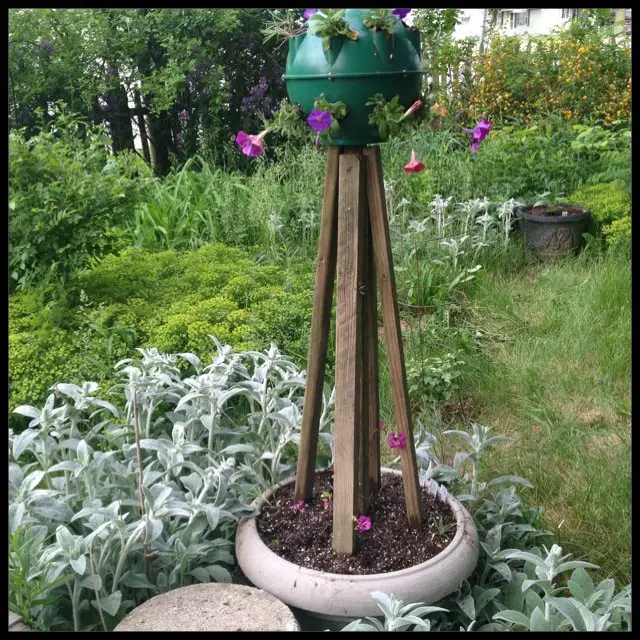 The lamb's ears beckoned to me to gently caress them. Their leaves are so soft – they remind me of petting a small kitten.
The red rose towered above the yellow-green flowers of the groundcover really brought the other two plants together and made the red of the roses stand out even more. There are numerous groupings like this all along the garden path.
Some just seem to stand out more than others on different days possibly because of how the sunlight plays off the petals and leaves of the plants at different times of the day.
So, I hope you have enjoyed my attempt at describing the garden. It has not been an easy task.
The good news is there are lots of videos on my YouTube Channel of the garden if you wish to see parts of the garden for yourself.
I highly recommend the following articles:
Use the buttons on the right hand side of the screen to share this article with friends or family who might find it useful. Pin the picture below to your pinboard on Pinterest for future reference.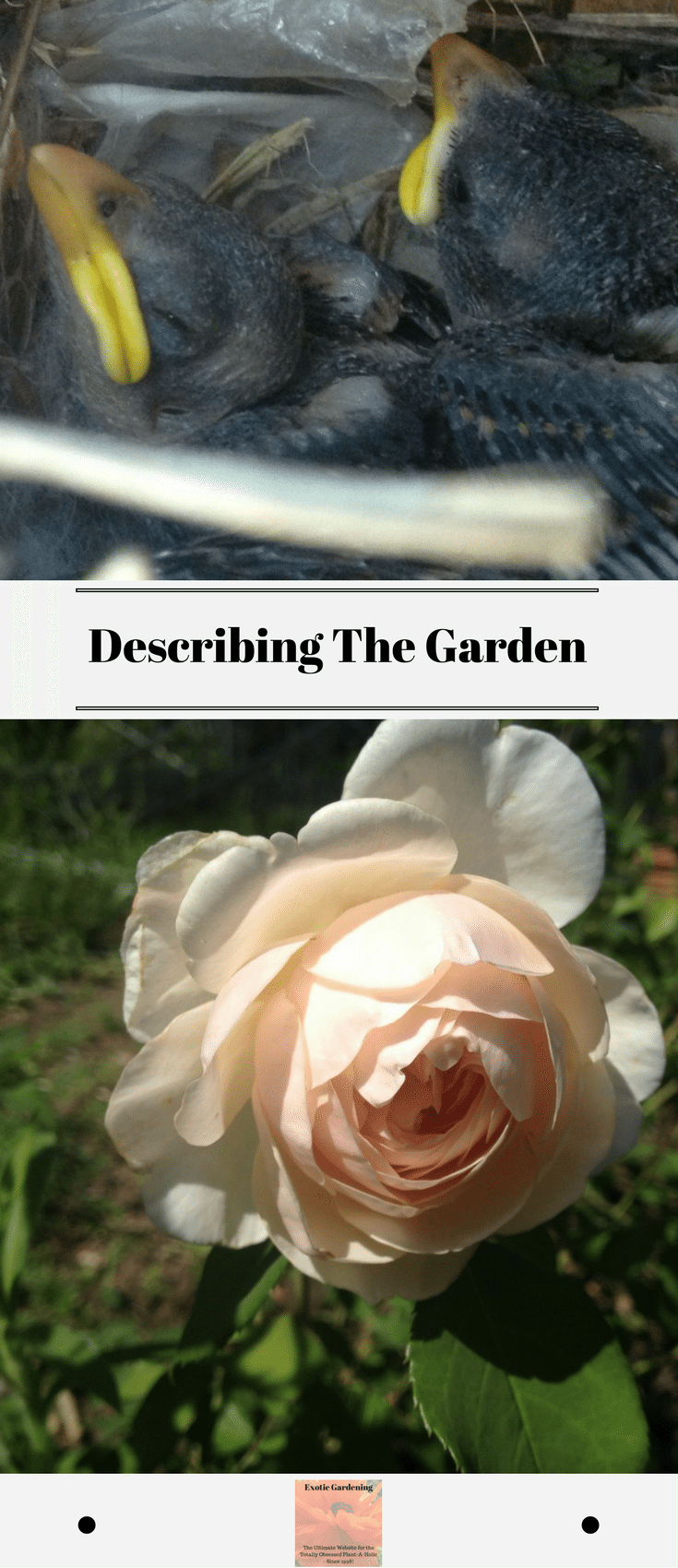 Filed Under: Flower GardeningTagged With: descriptive narrative of my garden, my garden ramblings