Upper Left Hand Corner Essay Contest
We have our winners! First, second, and third prize winners have been notified and all have accepted their prizes. Thanks so much to the more than 3,200 of you who submitted an essay. 
Congratulations to our three winners!
Montanna T, First Place
Kalvin L, Second Place
Gabrielle B, Third Place
---
---
Submission entry is now closed. 
Winners will be announced Friday, October 9th. We'll be sure to let you know by email if you've won. Keep coming to StayTeen.org for more contests, quizzes, and to learn all about sex, relationships, and birth control.
---
Did you know that roughly 1 in 4 girls will become pregnant at least once by age 20? And just 38% of teen girls who have a child before age 18 get a high school diploma? Although nearly all teens say they don't want to get pregnant, most of them have never really thought about how getting pregnant or getting someone else pregnant would affect their lives.
Essay Topic 
When you think about your life, where do you want to be in 5 years? In 10 years? In 25 years? We all make decisions about our health and in our lives that can help set us up on a path towards a successful future or derail us from our goals. So tell us: What does preparing for a healthy future mean to you? What steps are you taking to be the best you can be? Perhaps there are people in your life who provide information or guidance as you work towards a healthy future. If so, what advice or counsel do they give to you and do you agree with what they say? Maybe you sometimes have to make difficult decisions regarding your health or your future. What information do you use to make those decisions?
Write an essay between 500-1,000 words that explores the concepts above, specifically, how you are preparing for a successful future right now as a teen. You must incorporate at least one of the following themes in your writing: 1) sexual health, 2) sexual responsibility, 3) teen pregnancy prevention. See Contest Requirements below for more details and requirements for your essay submission.
Winners Will Receive:
First place: $1,000 scholarship
Second place: $500 scholarship
Third place: $250 scholarship
FAQs
What is the contest deadline? Entries must be received by 5pm ET on Wednesday, September 30, 2015.
How can I submit my entry? Entries can either be mailed or submitted via this webpage.
Mailed entries can be sent to: ​
Stay Teen's Project Future Essay Contest
c/o The National Campaign to Prevent Teen and Unplanned Pregnancy
1776 Massachusetts Avenue, NW, #200
Washington, DC 20036
Digital entries must be submitted through this webpage—emailed submissions will not be accepted.
When will you announce the winners? Winners will be announced on Friday, October 9, 2015.
About the Contest
The contest is sponsored by StayTeen.org, a project of The National Campaign to Prevent Teen andUnplanned Pregnancy. The goal is to reach out to teens as they are starting a new school year and encourage them to consider their sexual health—from healthy relationships to pregnancy prevention—so they can make informed decisions throughout the year and beyond. There is NO entry fee or other payment required to enter or win the contest.
Contest Requirements
To review the full contest Terms & Conditions, click here.
Section I: General Rules
Contestants can submit entries via this webpage (http://StayTeen.org/essay-contest) or via post at:
Stay Teen's Project Future Essay Contest
c/o The National Campaign to Prevent Teen and Unplanned Pregnancy
1776 Massachusetts Avenue, NW, #200
Washington, DC 20036
Contestants must compose an original essay.
The National Campaign to Prevent Teen and Unplanned Pregnancy will have the right to edit, publish, or otherwise duplicate any essay, in whole or in part, entered into the contest without payment to the author.
Only winners will be contacted with the results and will be contacted via phone or email. 
There is NO entry fee or other payment required for this contest.
Section II: Qualifications for Contestants
The contest is open to entrants between the ages of 13 and 19 as of 11:59 p.m. ET, September 30, 2015 who reside within the United States. Certain eligibility restrictions apply, as described in the full contest Terms & Conditions.
Contestants may submit only one essay entry during the contest period.
Section III: Contest Rules
Participants must write on the official topic and incorporate at least one of the specified themes into the essay.
Each entry must include a title page that includes the title of the essay along with the entrant's first name, last name, date of birth, email address, phone number, city, state, and name of high school (if applicable). This title page is required whether the entry is submitted via post or via web.
Essays may be typewritten or legibly handwritten and must be double-spaced.
Essays must be between 500 – 1,000 words. Every word in the body of the essay is counted. This does not include the cover page, essay title, or any citations.
Any quotations or copyrighted material used in the essay must be identified properly. Failure to identify non-original material will result in disqualification.
Essays must be written in English.
Mailed entries should be stapled together in the upper left-hand corner with the cover page attached.
Section IV: Judging
Judging will be completed by a panel of qualified judges who are employed by The National Campaign to Prevent Teen and Unplanned Pregnancy, with each judge scoring each essay independently.
Only judges can award points.
The eligible Entrant whose essay earns the highest average score from the panel of judges will be awarded First Place, the eligible Entrant whose essay earns the second-highest average score from the panel of judges will be awarded Second Place, and the eligible Entrant whose essay earns the third-highest average score from the panel of judges will be awarded Third Place.
In the event of a tie between two or more essays earning one of the top three average scores, winners will be selected by the highest score in the Material Organization category. If there is still a tie after applying the above criteria, the judges will confer and select the winner(s) from among the tying Entries.
Section V: Scoring of Contest
Scoring procedures at all levels of the contest will be identical.
Material Organization (Logical interpretation of the subject, adherence to topic): 50 points
Vocabulary and Style (Phrasing and continuity): 30 points
Grammar, Punctuation, Spelling: 15 points
Neatness: 5 points
ROBERT J. STUCKEY ESSAY CONTEST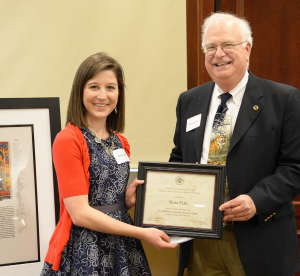 The late Robert J. Stuckey was a member of the 1963 junior class of Farmington High School. Robert had planned to attend college. He was vitally interested in current events and enjoyed reading. He had a natural facility for architectural drawing and was also interested in music. Like most young men, Rober was interested in sports, particularly wrestling. This annual contest is presented in memory of Robert.
Contest Rules:

The contest is open to Missouri High School students (in the 9th through the 12th grades), and only one entry will be accepted from each school. Home-schooled students living in Missouri are also eligible to apply. Each school is to choose the essay to be submitted. Essays should not have been submitted to any previous contest or have been previously published. Common topics for essays are literary analyses, accounts of personal experiences and fictional short stories. Essays which review a single book are not acceptable.
Criteria for Judging:

Contest judges will be comprised of members of the Friends of the Libraries.
Entries will be judged on the basis of:
Originality of thought
Content
Skill in organizing and presenting ideas and in marshaling evidence
Grammar, spelling and composition
How to Apply:

Each essay should have a title and be between 1,200 and 1,500 words in length. Essays should be typed,
double-spaced on one side of paper. Initials of the student should be in the upper right hand corner of
each page. A 3" x 5" card with student's name, gender, address, telephone number, name of school,
school address and teacher's full name should be clipped to the upper left corner of the manuscript.
Essays become the property of the Friends of the University of Missouri Libraries upon receipt.
Deadline:
All entries must be received by email or postmarked by January 31, 2018.
Entries should be sent to:
Sheila Voss
104 Ellis Library
University of Missouri
Columbia, MO 65201-5149
vosss@missouri.edu
Prizes:

First-place prize is $1,500
Second-place prize is $750
Teachers of the first and second-place winners also receive monetary prizes of $250 each
Contact Information:

If you have any questions about this contest, please contact
Sheila Voss at vosss@missouri.edu or at 573-882-9168.
Archive of Previous Winning Stuckey Essays